<!- mfunc search_box_nav ->
<!- /mfunc search_box_nav ->
7 Super Exciting Specializations with a Masters in Public Administration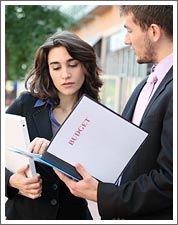 A master's degree shows that you have some specific level of knowledge or specialization in a certain field that other individual people who don't hold a degree may not have. In the field of public administration those that have successfully completed a MPA degree program have several very exciting areas of specialty that are available to them. The following seven areas of specialty are available to those who wish to pursue a career in public administration.
#1 Homeland Security
Terrorism is a major concern in the United States. Homeland Security implements programs and policies that are intended to prevent terrorist attacks from happening in the United States or around the world. Public Administrators are sought after to help implement and manage these programs all across the country.
<!- mfunc feat_school ->
<!- /mfunc feat_school ->
#2 Non-Profit Management
Many non-profit organizations are looking for individuals who can develop programs that are specifically designed for their non-profit and help manage those programs. When working in the non-profit sector, individuals who hold a MPA degree not only get to work for a cause they care about but they also get to utilize their skills. However, because the non-profit sector is different from the public sector special courses need to be taken to understand how to develop and manage such programs.
#3 International Affairs
There is a high demand for people who can develop programs and policies on an international level. Public administration officials have the chance to work with the United Nations or international businesses developing policies and programs that suit the needs of the international community.
#4 Health Field
Public administration officials are involved with developing and carrying out public health policies. Departments like the Center for Disease Control, and Community Health projects require the assistances of organized individuals who can develop, implement and manage programs on a large scale.
#5 Criminal Justice
The criminal justice system is filled with many programs and policies that need to be followed, maintained and adjusted to suit the needs of the community. A public administration official can develop these programs to suit the individual needs of the community. To specialize in this area individuals not only need an understanding of public administration but will also need to possess knowledge of the criminal justice system.
#6 Urban Development
Communities are constantly growing and changing. Public administration officials who specialize in urban development can track and analyze data that is related to urban development. Once that data is analyzed polices and projects can be implemented to regulate the urban growth.
#7 Transportation Systems
The nation's transportation system is made up of hundreds of different programs. A public administration official can control and manage all the programs that make the nation's transportation system run. Public administration officials can also recommend changes to make transportation systems cost-effective and efficient.
These seven areas of specialty in the public administration field offer great opportunities to those who have successfully completed their Online MPA degree programs.
References –