Master's Degree in Public Administration – MPA
<!- mfunc search_box_nav ->
<!- /mfunc search_box_nav ->
Guide to a Master's Degree in Public Administration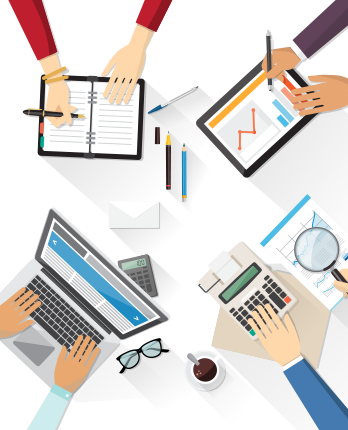 What is Public Administration? – Public administration is the work of managing services provided for the public good through government or non-profit agencies. The field combines skills in project management and economics with policy and public relations expertise to handle everything from public transportation to emergency management systems.
This website is designed to serve as a comprehensive resource for students who are earning or interested in earning their master's degree in public administration or affairs, also known as MPA. Interested visitors will be able to learn about the top MPA programs in the US, and also will learn about career options, salaries, job demand, as well as grant and fellowship options to pay for your education.You will also learn about why it is worthwhile to obtain an MPA degree. The MPA can be compared to an MBA degree, which teaches students the skills needed to lead or run a business or private organization. The MPA is similar, but the curriculum focuses on the government and public sector. You will learn the skills required to be an effective change leader in a public organization.Skills that you will hone in an MPA program include:
Organizational management
Public and nonprofit finance
Human resources
Public law
Strategic communications
Program and policy evaluation
<!- mfunc feat_school ->
<!- /mfunc feat_school ->
Students also can request free information about MPA programs and the universities that offer them. We appreciate you visiting this site, and please contact us if we can help you.
Top Master's in Public Administration and Affairs Programs
The 10 universities below are rated as the best public administration and affairs master's programs in the US, according to US News and World Report.
American University in Washington, DC

American University offers a Master of Public Administration & Policy (MPAP) that blends curriculum from American's NASPAA-Accredited MPA and MPP programs into a single graduate degree. Recognized as a leading institution for public affairs education since its founding in the mid-20th century, American's School of Public Affairs offers today's students well-informed and highly relevant online programs led by experienced faculty. Learn how the double focus offered through the American University MPAP creates more effective leaders in NGOs and other organizations.

University of Southern California

USC Price's online Master of Public Administration prepares students to identify areas for improvement in their communities and ensure change is implemented. This includes learning to design and run new public systems and programs; evaluate, develop and implement new policy; and track, allocate and raise public funds. In 2019, USC Price was ranked a #3 program for public affairs by U.S. News and World Report.

Online MPA Degree

Many universities now offer excellent online MPA programs. This offers the student many advantages. You can continue to work full or part time and take classes on your schedule. Also, you can attend a school in another part of the country or world – no need to relocate.

Some of the quality online MPAs that you can explore include these options:

University of Southern California

The Master of Public Administration (MPA) online program is designed to educate the next generation of leaders who can solve tomorrow's most pressing issues—from the environment to healthcare reform, immigration, infrastructure, urban development, and more. Individuals enter the program as students and prepare to graduate as change agents. Offered by the USC Sol Price School of Public Policy, this online master's program takes a different approach—to teach students how to view management and policy issues through the lens of social entrepreneurship.

Additional Online Options:

MPA Degree Overview

A Master of Public Administration (MPA) degree is a professional graduate degree that is highly desirable for professionals who want to work in government agencies, nonprofits, international NGOs and other government-related institutions.

An MPA degree most often focuses on organizational government, administration and finance. Many MPA programs offer many concentrations, such as nonprofit management and public policy. Most MPA programs take two years to complete, and a few may be completed in as little as a single year.
Note that a related degree is the Master of Public Policy (MPP). Many universities offer one or the other, and some offer both.

Reasons to Earn an MPA Degree

Working in government can be a very rewarding and profitable career. While you may not earn as much income as in the private sector in some cases, most government jobs are very stable and have excellent benefits. The Bureau of Labor Statistics reports that the median salary for political scientists is $102,000. Also, that source also reports that jobs in the field will increase by 21% by 2022.

MPA Course Requirements

Some of the most common classes that you will need to complete for this graduate program are:

Policy analysis
Issues and cases in public administration
Organizational behavior and leadership
Public budgeting and accounting
Finance and accounting
Research methods and strategies
Managerial accounting
Financial management
Information technology for accounting

Educational Prerequisites

Most professionals who apply to a university to earn their MPA have a background in the liberal arts. You should have had courses in political science, history, government, statistics and English. Some programs also want you to have a mathematical or analytical background, so classes in accounting, finance and mathematics are very helpful.

MPA Career Outlook

As mentioned above, the Bureau of Labor Statistics reports job growth for political scientists will be 21% by 2022. There should be more jobs available in the government sector as governments are looking for ways to solve problems through public policy, and to learn how to spend taxpayer funds more effectively.

MPA Salary

The median salary for all political scientists was $102,000 in 2012, according to government statistics.

Additional Resources for MPA Students

MPA Financial Aid

Some of the best ways to fund your MPA degree is to choose one of the methods below. Many universities offer a varieties of programs to help graduates pay for their education.