MPA Public Administration Degree Salary Outlook?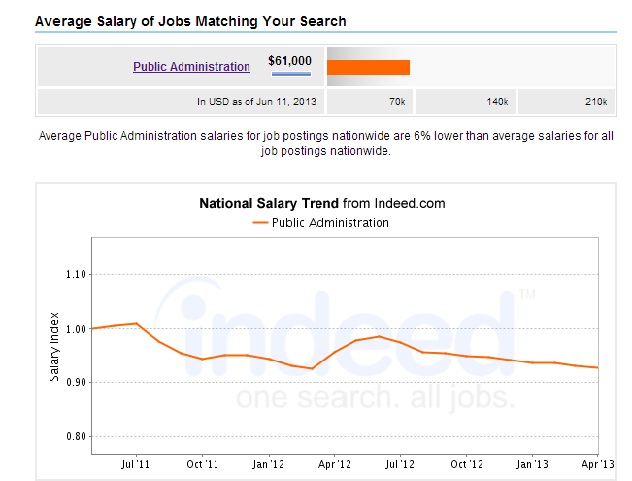 Before pursuing a MPA degree program you will want to know what the prospective salary is for someone who holds such a college degree. Individuals who hold an MPA degree will notice different salaries depending upon what sector they work in. Salaries will vary depending upon whether you are working in the public sector and private sector, and whether or not your company is considered non-profit or profit.
Capella University offers flexible, online Master's in Public Administration degree programs that can help you make a positive difference in your community. Explore programs in Public Administration, Nonprofit Management and Leadership, and Public Policy and Governance. Click here to learn more about Capella University and how their MPA degree options can help you gain the skills and knowledge to reach your career goals and impact the communities you serve.
University of Delaware's accredited online MPA program integrates theory and practice to give you the real-world skills you need to develop new strategies for taking on today's biggest challenges in public service. Become a leader in public service and nonprofit operations. Request information to learn more about the University of Delaware's online Master of Public Administration program today.
American University brings DC to you with the online Master of Public Administration and Policy. The degree combines the core competencies of our nationally recognized Master's in Public Administration and Master's in Public Policy degree programs into one foundational, highly marketable credential. Learn from a top-ranked school for public affairs and access a network of public policy experts, prestigious faculty and well-connected alumni. Click here to request more information.
SEE ALSO: Online MPA Options
The General Overall Statistics of an MPA Graduate
Statistics show that pursuing an MPA degree program can considerably raise the average pay you will receive for your position. Graduates who only pursued a Bachelor's Degree had a maximum earning potential of $50,000. Those who received a Masters in Public Administration are looking at an average salary of $68,000. The master's degree raised the average salary of by $18,000 a year.
Specific Average Salaries for the Public Sector
Due to the variety of job positions available for someone who receives a MPA degree the average salaries can vary from as low as $35,000 to as high as $100,000. The public sector is filled with dozens of different jobs. The following are the average salaries of positions that can be found in the public sector:
Human Resources Director – $80,000
Program Administrator – $60,000
Director of Program Management – $60,000
Entry-Level Position – $53,000
Mid-Level Position – $75,000
The average earning potential in the public sector is around $60,000. In any position in the public sector there is plenty of room to advance and earn more than the average salary.
Specific Average Salaries for the Private Sector
The private sector of public administration includes companies and businesses. The average earning potential in this area of public administration for someone who has completed a MPA degree program is very similar to that of the public sector. The average salary is $60,000 with the potential to earn more. The following are average salaries specific to positions that can be found in the private sector:
Program Administrator – $40,000
Purchasing Manager – $53,000
Government Affairs Executive – $100,000
Director of Volunteer Services – $41,000
Top Research Executive – $100,000
Working in the private sector individuals with an MPA degree can find positions that pay six-figures or find positions that pay $40,000. There is a wide range of salaries available and the earning potential in the private sector will depend upon company size, candidate qualifications, job requirements, bonus potential and company budget.
References –